How To Tailor A Resume To A Job Description
Tailoring your Resume towards Job descriptions will immensely improve your chances of getting through the recruitment process. You differentiate yourself from the vast competition by simply relating a few bullet points towards the qualifications, requirements and tasks that are on the job description, which in turn will make your resume relevant to the Job Position and improve your chances of landing an interview.
Tailoring your resume may seem like a daunting task especially if you had a few jobs that are completely unrelated to the position you are applying for. This however is a misconception and here is why. As a recruiter I'm looking at resumes and LinkedIn profiles all day long and I can tell you that it's not uncommon for me to see examples of a barista who got a social media marketing position or how a bank teller gets a job as an HR Generalist. These candidates are able to demonstrate their experience, skills, attitude, passion or certain accomplishments are relevant and would make then a good fit. I would go as far to say that every position has some aspect that can be transitioned and made relevant for another role.
Don't worry we will explain how to tailor your resume to Job descriptions and will go through an detailed example together so that we can start integrating this valuable practice into our job search strategy.
Understanding the Job Description
• Before we start, copy and paste the Job Description into a Word Document.
• Next do a quick Google search with the exact same Job "Title + job description" and gather about 5 to 10 more job descriptions, copy them to the same word document.
• Create another word document and then make these following headings. Qualifications, Requirements, Duties/Tasks, Technical skills
• Next make sure to copy the bullet points of all the job descriptions you gathered and list them under our headings. Don't worry if certain duties or certain requirements repeat, copy them anyway as this will be our indicator of a vital tasks or skill that hiring manager's look at.
Tailoring our Resume Experience
• Under each bullet point we now want to press enter and then tab so that it creates a secondary bullet point for us.
• Here we want to write down all of our past experience including our school projects, our experience outside work, all the jobs we have had, volunteer experience etc. If you need to learn more about how to flush out your experience you can read up on our previous post HERE
• Our aim is to only list our relevant experience and not worry about wording or formatting. For example if we had a call center job and the job description is asking something in regards to Excel/Word we can elaborate that each call had to be entered and tracked through complex excel spreadsheets. If we held a Retail position and the job description required one to two years office experience, we can list all of our duties that involved paperwork, computers, emails, order forms, filing etc.
How to tailor your Resume to Job descriptions Example
Since I work best with an example and I'm sure you do as well, we can go through one together. I've grabbed a job description of Indeed.com for a marketing coordinator role.
In regards to the Resume nobody was willing to have their resume reviewed openly so I made up the most average resume possible. I made up a fake person and took the 3 most popular jobs in the United States which is Retail, Clerical and Food Services and as the experience. This person is 25 years old and I gave him an AA degree since 40.58 % of the population the US has one. His name is James since that is the most popular name in the US.
OK here is how James should tailor his resume towards this job description. He wants a better job obviously so he is trying to apply for a Marketing Coordinator Role at a bigger company. A job that he can actually build a strong career with and this is an entry level role that would make a good start.
Here is the Job Description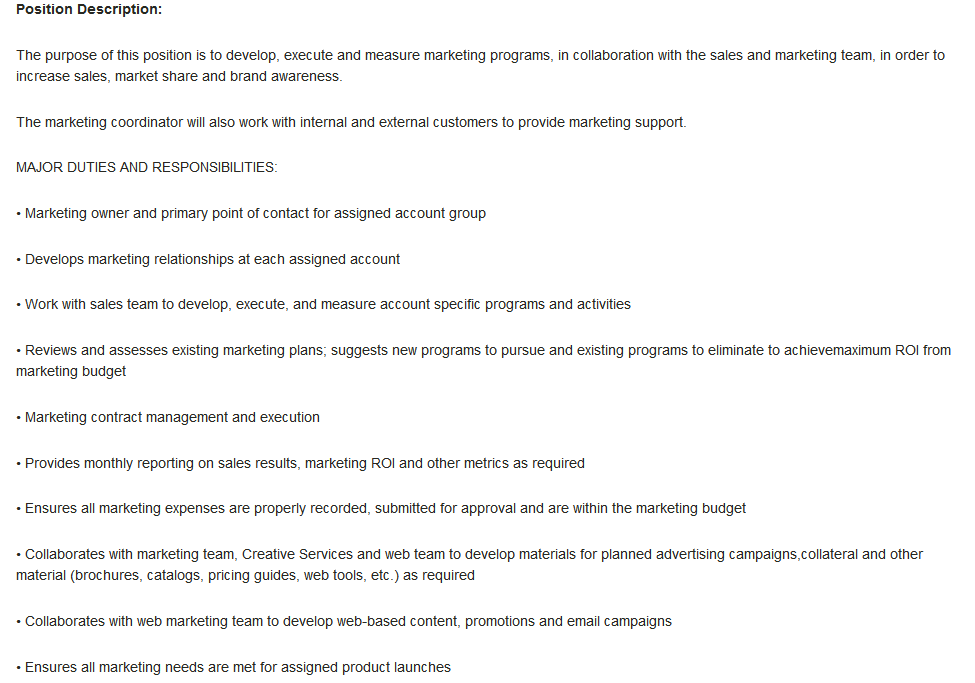 Remember that experience is really anything that relates well and it can be a mix of school projects, internships, and freelancing, part time and full time gigs. I will not give you an entire Resume Template but will simply show you what we would put under each job he has had in the past.
(Prioritize list from most to least important) – To give you an insight into how people write job descriptions at least from my experience is the following. The first 3 to 4 bullet points you see will be the most important ones. When we start getting towards the bottom it becomes really irrelevant where people start putting some boilerplate stuff that is pretty much the same on every job description and can be generally ignored. If you look at the last bullet point for example they may just as well say JUST DO YOUR JOB. Remember that order matters
Let's take a second and really read through this list so that we can understand what this position is about. There are ten bullet points so let's go through each one of them
You will be doing the marketing because nobody else wants to, you will also deal with all the complaints from the sales team and clients

Make sure that all the clients are happy and that they keep ordering

Help the sales team make more sales

We would like to stop doing what's not working but most likely will keep on doing what we have done in the past

Do a little bit of sales

Show us that you're doing a good job and that its helping sales

Don't waste our money

Tell the designers and the one web developer guy what you need

Work with that same person to write some articles and sales material and push it through e-mails, social media and advertising channels

Do your Job
Sorry about the sarcasm but to me most job descriptions are just funny. To sum it all up this company wants to increase their sales by generating more leads through advertisement. What they have done in the past is obviously not working and their web development team needs some direction. Our main points to take from this is that we have to demonstrate to them in our resume that we have done this in the past, that we can track our performance and do it in a cost effective way, most importantly we have to increase sales or at least show that its helping sales.
Let's take a look at the qualifications they want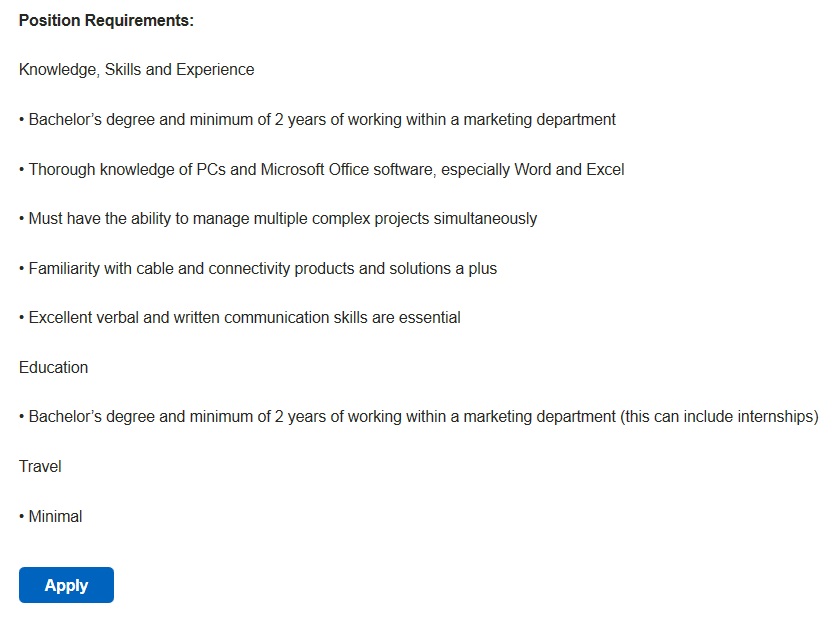 Wow what a terrible job they did, just the fact that they state knowledge of PC's tells me everything. I told you guys that this is not a daunting task and we'll be able to make this work, because this job description was obviously written by a sales manager. Let's go through each one step by step.
The fact that they mention a bachelor's degree shouldn't turn anybody off. This job can be done without a degree at all, and the fact that they mention 2 years within a marketing department is just a nice way of saying I want somebody who has done this before because we don't know what to do and can't train you.

Word and excel should tell you that they want you to write the marketing material and the excel portion tells us that they want to see numbers that tell them that you are doing a good job and that the things you're doing are working out. Knowledge of PC's can be ignored; obviously whoever wrote this is not very good with computers so they want somebody who is not afraid of the keyboard.

Ability to manager multiple complex projects at the same time tell us that you are walking into a chaotic environment where nothing is done the right way

Cable and Connectivity products is what this company sells so they want you to be able to sell these things as well

Remember what I said about the order of things, last point can be ignored

Education: I told you guys that the education or the experience doesn't really matter for this position the fact that they state internships counts tells us everything, they just want somebody who knows what they are doing
Now that we know that this role is mainly sales driven, you are basically going to be a sales person on steroids that will deal with complaints from the sales department when they are not doing well. This means that every time they can't sell somebody it will be your fault because your advertisement is not working as it should. You'll be working with a team that will question your decisions and will deal with management that does not understand your role. However if we can make the sales go up you'll be seen as the HERO and it will be a badge of honor to the hiring manager. Let's get to tailoring
OUR SALES POSITION
We want to begin every bullet point with action verbs and then shortly describe some tasks and tie it in with accomplishments. Even though this was a low level retail sales position we will expend on all of our tasks to make it very relevant for the coordinator role.
Consistently increased sales by advertising though social media and integrating customers and clients into social media strategy (Facebook, Google +, Craigslist, E-Mail Marketing,) – (we can easily create stories and tell the employer that we prospected every customer, connected though social media and consequently emailed them promotions, coupons and invited them back into the store) Not that big of a stretch

Prospected, Qualified and Closed 200 customers on a daily basis by emphasizing customer service and building long-term business relationships (Here we are emphasizing sales and relationship building)

Collaborated with Marketing and Web development team by providing customer feedback, offering suggestions and monitoring upcoming promotions (Here we are letting them know that we understand the role of the marketing department, during the interview we can tell them that we called the marketing department, sent in customer feedback surveys, that we offered suggestions what type of promotions are working out)

Mined and analyzed three detailed customer databases, user surveys and potential communities within Excel (sorting and filtering, conditional formatting, vlookup, pivot tables) – (We are emphasizing that we understand excel, that we looked though the computer systems at different customers, looked at surveys and gathered potential leads)

Additionally I would also say something that deals with creating sales reports for management
(All right so here is a little dirty secret, employers don't have a way of finding out what you really did, when somebody verifies your employment all they are able to ask is date of employment, if we would be rehired, if we left on good terms, our position title and how much our hourly wage was. References are another story so to make this work we want to contact all of our references or even better meet with them over coffee and discuss the positions we are currently applying for. Most people will be helfull and stating that you are applying for marketing roles and would appreciate if they are able to emphasize your marketing efforts will do the trick)
NOW VERY IMPORTANT DISCLAIMER
I don't want anybody to think that we are lying here. We could do what everybody else does and simply write about our tasks, cleaned up the store, rang customers up, did some inventory. If we did this then our resume would be skipped and I would go as far to say that this is why you never get a call from all these positions you are applying for. The calls that you are getting are for the same type of pointless position. Everything we have written above was not lying, if you had a sales position in the past you most likely were asked to do some cold calls, you most likely were asked to prospect customers, you probably posted something on Facebook telling your friends that there is a sale going on, you most likely looked though the company software at surveys and you most certainly had to keep track of your sales data.
I do understand that not every task I listed above is something that you actually did. This is an Example and I simply want you to sell yourself better by thinking about your position in a different way. Answering phone calls for example is a terrible thing to say on a resume, a monkey could do that. Stating managed all communication channel is saying the same thing… the only difference between the two is that one will get you an interview and the other will make a recruiter press delete… That is the difference. Don't' lie but make it appealing by thinking about your position differently. Think what your company did and if you had any part in it then inject yourself into those events.
OK lets continue to tailor our resume to the job description for our Clerical Role
OUR CLERICAL POSITION
Managed, organized, scheduled and maintained projects for the sales and management team though database management, composing e-mails, and managing all communication channels for 120+ Clients (Wow that is impressive, in reality we just answered emails and did what the sales team and management asked, remember we are selling ourselves because we want to build a better future for ourselves and our families so model these examples)

Update website content and created company newsletter by working closely with our marketing department in order to improve branding by consistently staying on message and emphasizing core values (we want to focus on our attention to towards the online aspect of things, so if we did anything on the company website, even as simply posting a job description or entering contact information we want to make sure to highlight this and relate it back to towards the marketing side of things)

 

Next I would definitely state something about invoices, tracking all operations costs, putting these things into excel and generating reports for management

I would also emphasize more on client relations, sales support  and  staying up to date on all company product information, possibly even developing sales brochures, product descriptions etc
(Here we took a simply boring office job that probably didn't have any more responsibilities then answering phone calls, handing paperwork etc and we turned it a role that is relevant and experience that is primed for bigger and better things.)
 OUR SERVER POSITION
Monitored branding activities on review sites and implemented customer suggestions into daily operations

Built relationships with local news channels, writing website copy, content brand identity, and press releases

Conducted competitive restaurant market research by analyzing competition and implementing differentiation strategies

Created and implemented brand awareness events and programs into the restaurant including Public and Company tastings, Late night happy hour, mixing classes, speed dating, corporate lunches and weddings

Increased repeat customer sales by building report, learning customer names, and ensuring consistent customer service
( VERY IMPORTANT: Remember that just because you held a position as a Server, you do not have to talk about serving food and cleaning tables, really flush out all the things the restaurant did and inject yourself as a contributor, suddenly that low level server position will look like a marketing related role)
That takes care of our experience but we are not done yet,  let's move onto our Education 
EDUCATION
University (If it took you longer than the normal time just state Graduated: YEAR)

GPA – Only list if its above 3.0, I would go as far as only listing it if its above 3.5 (Most employers won't ask you and don't care, Google just released an article stating that there was no correlation between GPA and the success of the hire)
The biggest mistake people do in this section is only list these two points above, I gave James an AA in Business Administration since that seems to be the most popular degree in the United States and if you ask me it's also the most useless, but that is another subject that we will discuss later.
A.A Business Administration
University
School of Business Administration, G.P.A 3.7
To really make this degree stands out and to tell our employer that we actually learned something James should do the following. Go to his schools website and look up his degree, then copy and paste the degree description and then tailor it towards the job description. Most degrees have a section that deals with what the students will get out of this degree; we can model those bullet points.
Analyzed the impact of marketing environments on marketing strategy and performance for local business

Applied consumer behavior principles and their implications for social media marketing campaigns, branding and sales enhancement;

Collected, analyzed, interpreted and created reports by importing Google analytics data in Excel;

Applied marketing principles to segment consumer groups and develop appropriate positioning strategies and marketing plan;
All right… so what I did here is I went to a university website, looked up the marketing degree and then compiled the degree outcomes into the resume. Again we are not stretching the truth since we all took a marketing class and learned exactly what I wrote above. A better way to do this would be also to put into a paragraph format and then save the bullet points for our Projects and Selected Coursework.
PROJECTS/SELECTED COURSE WORK

Here I would list all of my classes that I took which relate to the position above; this would include Marketing Management, Consumer Behavior, Marketing Analysis, Management Information System, and Statics
Don't go overboard and please don't list classes that don't relate, I could care less if you took a HR management class or accounting, it does not relate. Next I would think hard about all the homework assignments I did in my marketing class or the final capstone project I did for the A.A degree. I would bullet that here as well and say something like
Created a 200 page report on the impact of modern day marketing on small business. Gathered and analyzed data using Google Analytics, Google Ad words, Search Position, Customer Reviews. Met with small business, presented my findings and offered marketing solutions that could be implemented to increase sales. A simple homework assignment or a project can do wonders to showcase that you have interest in this position and that you have gained valuable experience through your education that can be applied to this job.
A FEW THINGS TO KEEP IN MIND

If you are in any affiliations or organizations or clubs you can list this and tailor it the same way we did with our job experience. Bullet points that relate to creating marketing campaigns, increasing memberships, supporting outreach efforts, working with a team to build social media branding, writing press releases, creating Google plus groups etc.
COMPUTER SKILLS
Do not neglect this section, here I would include all the skills I have gained thus far in my career, this would be Excel, PowerPoint, Whatever program or system I used in my previous positions, anything that I'm learning now
Final Advise to our buddy James would be to go out and to improve his skills in regards to marketing over the next few months. Just on top of my head for a marketing coordinator role I would get a few certifications from Google analytics and Google ad words, both only cost 50 bucks and look great on a resume. I would also log onto LinkedIn and look at the profiles of people who already have this position, I would take notes on the skills they have, the programs they know and then I would invest my weekends and a few hours every day to find online tutorials, books, industry news and would make it a habit to learn something every day. Once I get the hang of Facebook Ads for example I would highlight that on my resume, I would then move onto something else. You will be surprised how much knowledge you can gain and effectively build a skill set in just 3 to 6 months that would position you well for any type of career that you would like to jump into.
Our next blog post will be about how to tailor a Cover Letter to Job descriptions, If you would like to be notified simply enter your email below. [subscribe2]
A Request to Our Readers: Please help me share this over social networks, I've made it easy by putting social sharing buttons above and below the post. Every time you share my blog improves and it lets me know that I'm not wasting my time. Happy hunting everybody…. Having written this up I really hope that it helps some of you understand how to tailor your resume to Job descriptions.